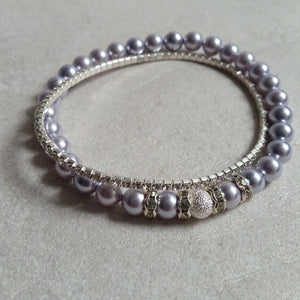 One lavender Swarovski crystal pearls, silver plated rhinestone and silver star dust beads bracelet.  And one silver plated and crystal clear rhinestone bracelet.  Both bracelets have been strung on elastic threads making them very easy to wear.
Components  :  Swarovski crystal pearls and crystals
Dimensions  :  6mm and 2mm beads
Metal  :  silver plated brass
Finished Length :  197mm
With light lavender hues and a hint of iridescence, the Swarovski crystal lavender pearl artfully resembles a naturally created pearl. Just like fine South Seas pearls, Swarovski crystal pearls have a smooth surface and perfect curves that warm to the skin. Combining a crystal core with an innovative pearl-like coating that is resistant to UV rays and perfumes, Swarovski crystal pearls are ideal for long-wearing, heirloom-quality jewelry.
Other colours available on request.