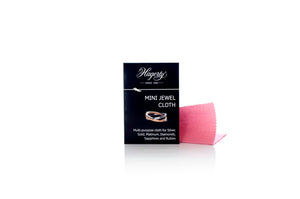 HAGERTY MINI JEWEL CLOTH (9X12CM)
Impregnated easy-to-use cloth that renews the sparkle on silver, gold, platinum, diamonds, sapphires, rubies.

ADVANTAGES
Due to the advanced impregnation process, it gives all jewellery a new shine.
Guarantees professional cleaning results.
100% scratch-free

INSTRUCTIONS
Gently but thoroughly buff the jewellery to obtain a perfect shine.
Do not wash the cloth.

When this product is sent on its own it is sent by standard NZ Post mail.  When purchased with other items it is sent by Courier Post.